Good Morning and Happy Tuesday! Hope you all are having a great day so far. Woke up to a text from my mom this morning saying that it's snowing in Grand Rapids (MI)…needless to say I was a little jealous. Although it is sunny here and going to be in the sixties, I still miss my cold snowy winters. I heart snow. Oh well, I guess I'll just have to make do with the sun for awhile:)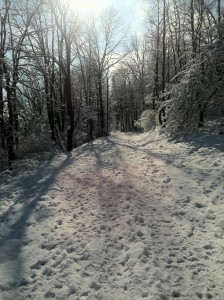 This morning I was reading again in Genesis, and came across a well-known story that really spoke volumes to me today. The past couple of weeks have been a bit rocky for me. It was great having my family here, yet it was so sad to see them leave. I feel kind of stuck where I'm at in life, and it has caused me to be discouraged. I feel as though God has promised me so many things, yet nothing really seems to be happening. Sad, discouraged, frustrated. Ever felt that way before?

Genesis 27 tells the story of how Jacob received his father's blessing. And Isaac didn't just willingly give Jacob that blessing—he was tricked into doing so. Isaac meant to give it to Esau, but Jacob, under the influence of his mother Rebekah, dressed up as Esau and tricked Isaac [who was blind] into giving him the blessing instead of his older brother.
Jacob and Esau were twins, but since Esau was born moments prior to Jacob, he was the rightful heir and receiver of the family blessing. The ironic catch here is that God had promised Rebekah, during childbirth, that Jacob would be the one to receive the blessing, and that he would eventually become the leader of their family. But Rebekah, and Jacob for that matter, decided to take matters into their own hands. They became desperate as the time for the blessing drew near, and decided that God must have changed his mind, or at least needed their help in bringing about his promises to Jacob. How wrong they were.
We will never know exactly how God intended to give Jacob the blessing, making him the family heir, but we can assume it wasn't through trickery and deceit. Those were the result of a poorly planned attempt at fulfilling God's promises for him—and that 'plan' did not come without repercussions and consequences. Jacob ended up with the blessing, but he tore his family apart in doing so.
This got me thinking—what consequences might I be suffering because I chose to take matters into my own hands? Instead of simply being patient and waiting for God to fulfill his promises in my life, I try and 'help' him out by expediting the process on my own terms and conditions. I need to be content with the promises he has given me, and be faithful in the things he has called and positioned me to do during the in-between time. I need to be focused on his plan instead of mine, and on his will being done instead of my own. That is the only way for his promises to truly be fulfilled in my life. He knows what he is doing—after all, he is God. It's time for me to trust him—100%.
Can you relate? Has anyone else been feeling this way lately? Don't give up on the promises God has given you. Trust in him, and in his perfect, wonderful plan for your life.