Good Morning! How's your Tuesday going so far? Mine has been going well—just catching up on a few things after my long weekend with the family:) It was so great to see them, catch up, and show them around Dallas a bit. Samson also had an excellent time playing with everyone, and is quite exhausted today—he has been sleeping all morning. While it was great to see them, saying goodbye is always hard for me. So, needless to say, I am feeling a little down today. At least I have a sleeping kitty to keep me company today:)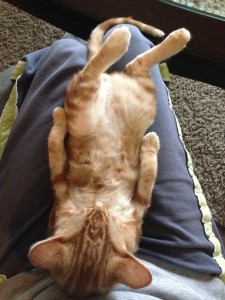 Anyways, this morning I was reading in Romans about how we are saved only by faith—not our works, not our good deeds, just through faith in Jesus.

"Where then is the boasting? It is excluded. On what principle? On that of observing the law? No, but on faith. For we maintain that a man is justified by faith apart from observing the law."
Romans 3:27-28
Christianity is unique in this sense. While most other religions require works and good deeds to please their gods, Christianity simply requires faith alone. Nothing we can physically do will ever be good enough to earn our way into heaven. But why does God choose this method? Why does he choose to save by faith alone? The footnotes in my amplified study bible provided me with an interesting answer to this question…
"Why does God save us by faith alone?
 Faith eliminates the pride of human effort, because faith is not a deed that we do.
 Faith exalts what God has done, not what people do.
 Faith admits that we can't keep the law or measure up to God's standings—we need  help.
 Faith is based on our relationship with God, not our performance for God."
I can't really think of a better way to say just that. Faith keeps us humble. It keeps us connected to God, and it focuses on our relationship with him. It shows that God really cares about us—enough to want a personal faith-based relationship with us, not just a performance of our deeds and abilities. Faith allows us to feel secure—we don't have to wonder and doubt whether or not our deeds are good enough. All we have to do is trust. It's really that simple.
Well, with that I am off to get a few things done. I hope you all have a great Tuesday! God Bless:)